Thank you so much for your financial support, helping me to attend the 2019 Club 420 North American Championship hosted by St. Francis Yacht Club in San Francisco, California. I attend along with my skipper Sophia Devling as well as Jean Wanlass and Kenny Wanlass.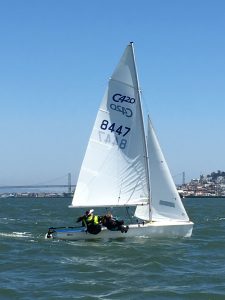 Thanks to our amazing and dedicated coach, Mike Pinkney, we were able to start training in San Francisco seven days prior to the start of the regatta. During the training days, we were able to get accustomed to the exciting conditions of the Bay, strong currents, lots of wind and very cold water. We spent the training days learning as much as possible about the strong currents and gained confidence sailing in at least 20 knots almost everyday. All the training was invaluable once racing stated.
The first day of racing was eventful. Due to the strong ebb tide, that occurred the entire event, we experienced many general recalls and black flag starts. Overall, we had a good first day with all top 20 finishes. The second day of racing was very challenging test of patience. The ebb tide caused more issues for starting however it did not just affect the fleet. The race committee struggled to set their anchor leading to an almost 2 hour on the water postponement. It was very important for Sophia and I to be able to stay focused during the long day. Our hard work of the first two days of the event paid off as we qualified for gold fleet.
The third day of the regatta proved to be a very stressful and eventful day for us. After a solid start to the day with a top 20 finish, a disaster occurred during the second race. As we sailed up the second upwind beat our jib halyard snapped causing our jib to come crashing down. After an exchange of very startled alarmed looks, Sophia and I continued racing. After we finished the race, Mike performed lighting speed rigging of a new jib halyard and we were able to continue racing for the last race of the day. The last day of racing was definitely the most difficult of all. After such a long, hard regatta, we were very tired but we continued to give it our all.
Overall, we finished 35th. The experience I gained and the opportunity to race in San Francisco was amazing. As a team, we are very proud of all the improvements we have made to achieve our result. None of them would have been possible without your generous support. Thank you again!