Recently I had the amazing opportunity to compete in the Butler Cup at Long Beach Yacht Club in the Catalina 37's.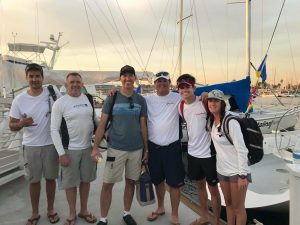 This event although not atypical for Southern California in the fall, was extremely light and very challenging sailing. Over the course of two days we were only able to complete one full round robin. Although we did not place as high has we had wanted, we were still very much in contention for the top spots. We were the only team to beat the winner of the event and we were in a 4 way tie for 3rd place with Liz Hjorth, Justin Law, David Wood, and myself. We left with a 6th place winning the tie against David Wood but, losing to the other competitors. We had a very close race with fellow youth David Wood, which ended up being decided about 25 feet from the finish line, with black flag against him. That seemed to be the story of the weekend, close the entire race and won or lost right before the finish line. That made for some really great racing, and learning opportunities for the future.
I Would like to thank the Long Beach Yacht Club for another amazing event and Balboa Yacht Club's Maritime Sciences and Seamanship Foundation for supporting me in this event.