Thank you so much for your generosity and consideration in providing funding for myself and my team in our recent travels to the land down under. Our times in Australia are always incredible due to the high level of racing, the incredible conditions, and the great competition. This year was no exception and we attended the most difficult Musto International Youth Match Race Regatta to ever be put together. This event will likely be graded as a grade 1 event and the level of racing truly did show.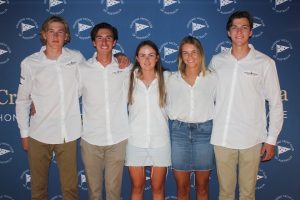 Our racing was incredibly tight from the start and end of every race. We struggled in the beginning of the round robin but really began to find our stride in the second half of the round robin and into the second 5 though 12 round robin. As we approached the end of the round robin, we even were able to win 5 races in a row two of which were against top three teams. Unfortunately, after making a great comeback we fell one win short of making the quarter finals. While this was a tough outcome, we were able to learn a ton and come away with some incredible lessons that we truly will never forget.
Once again thank you for your continued support and funding that your generously provide to my team and I. We thank you and look forward to continuing to represent you well.