Thank you for your generous grants to support my sailing endeavors during the 2019 year.
Due in part to your multiple financial contributions, I was able to attend the following events: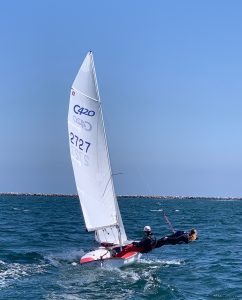 C420 MidWinter Championships in Jensen Beach FL.
C420 North American Championships in San Francisco
C420 CJ Buckley Team Racing Championship in East Greenwich, RI
C420 Hyannis Regatta in Hyannis, MA
C420 Buzzards Bay Regatta in New Bedford, MA.
My crew, Maddie Bashaw and I are greatly appreciative to have been able to participate in these National events. Being exposed to a higher level of competition and challenging conditions have greatly improved our teamwork and honed our sailing skills.
I look forward to representing the Newport Harbor area again in 2020 at these and additional National events.